Laser Hair Removal in Hyderabad - Safe & Effective Results
Laser Hair Removal in Hyderabad- Safe & Effective Results
Tired of your monthly waxing or shaving regime? Ever wondered how much you end up spending in salons for each waxing session? It is expensive and painful! It is the biggest nightmare, especially before attending the next date, party or wedding, or some other important event.
Well, there is a permanent solution to this. With laser hair removal, say bye to razors and yes to lasers!
Everyone wishes to have smooth, silky skin. But unwanted body hair can be troubling. Just a few sessions of laser hair removal procedure and you get rid of your routine waxing hassles forever.
We at Aesthetic Visions Clinic provide you the best painless techniques with high accuracy and zero damage with permanent hair removal techniques through laser, which is safe, reliable and quick with greater efficiency. The results are long-lasting when compared to other procedures.
We provide laser treatments that greatly help in hair removal for women, body hair removal for men, and some other services for removing hair in specific areas like face, leg, arm, underarm, line and other areas.
The results after the treatment are soon visible. You cannot see the new hair growing out, you will observe shredding of dead skin. We ensure best results for laser hair removal in Hyderabad. Your safety is our priority! At Aesthetic Vision we use laser systems to ensure the safety of patients and quality of service, Hence offering the best laser hair removal in Hyderabad.
Let's understand how laser hair removal procedure works – Technique explained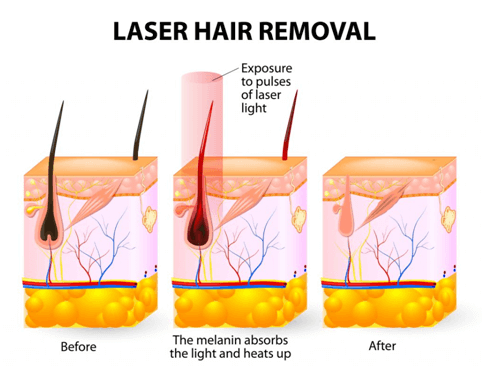 A focused optimized beam of light is used over the skin. Basically, they are a bunch of photons . This energy can get absorbed or reflected depending on what it hits. Now, for hair removal, the energy is actually getting absorbed by the hair follicles. So as the actual light energy from the laser hits the hair follicle, it heats up because all that energy gets absorbed by the follicle. As it heats up, it singes the hair and slowly burns the hair down to the root effectively, killing the surrounding follicle and disabling the hair from ever growing again.
Light energy gets absorbed differently based on different colors, just as you know, black absorbs and the color white reflects. So is the way the laser works. All of that optimized energy is attracted to the dark hair rather than the skin. Which is why laser hair removal, they say, is most effective based on people who have light skin and dark hair. So the more contrast, the more the laser energy is actually absorbed only by the hair rather than any of the skin. So when you are treated with an optimized laser, all of that energy affects the hair and not the skin. It kills the hair and leaving your skin smooth, silky and untouched.
When you visit our clinic for a session, Dr. Firdous will first examine your skin tone and then counsel you for the type of laser to be used for the treatment and accordingly suggest the number of sessions required.
However, it doesn't mean that if you have a dark skin, you cannot have laser hair removal. It is just that you have to get your treatment done with the right kind of a laser such as a diode laser; these are set up a little bit differently to make sure they effectively treat darker skin types in a safe manner. Dr. Firdous will guide you for the right type of laser to be used depending on your skin type and color. Thus, it is essential only to trust the expert. At Aesthetic Visions be rest assured that you are in safe hands. Dr. Firdous being an experienced cosmetologist in Secunderabad is well trained and certified to perform such aesthetic procedures.
Things you need to know when your looking for laser hair removal in Hyderabad
Your dermatologist will advice what is best for you!
- You need to trim or shave the area before going for laser treatment
- You have to avoid sun exposure & sun tan before & after treatment
- You cannot pluck, wax or bleach you hair post treatment if any in-growth shows up.
Common myths about Laser hair removal:
They are painful – As a matter of fact, laser hair removal treatments are generally not considered anywhere near as painful as waxing. You might feel a warm tingly feeling or just a prick on the areas being treated.
Laser hair removal is not safe – The clinic must use Laser Hair Removal systems. It is always recommended to go to certified and experienced Dermatologist.
Laser hair removal can cause burns – This happens only in rare cases. Your skin complexion and skin type can matter. Discuss with your dermatologist and you will be guided accordingly.
Laser hair removal can be done in beauty salons – Only visit a certified cosmetologist in order to get treated. Else it can lead to irreversible damage to the skin.