Acne Scar Treatment in Hyderabad
Acne Scar Treatment in Hyderabad
Is your skin developing tiny bumps or pimples on your face, forehead, and neck?
Are you feeling less confident due to the scars on your face?
Does your skin develop spots when approaching periods?
Do you want to get rid of those useless face packs and masks?
Get acne scar removal treatment from Aesthetic visions and give a boost to your appearance and confidence. Step out with your rejuvenated new look and watch faces turn at you. If you look good, you feel good too!
Dr. Firdous Ibrahim is one of the prominent names in cosmetic treatment and is a well known cosmetologist in Secunderabad. She has experience in treating acne scars, skin whitening, etc. and other skin issues with great success.
She heads the Aesthetics Visions in Secunderabad. Furthermore, she is internationally certified from Allergan Aesthetic Academy and Galderma Aesthetic Academy and has adopted an advanced approach to innovative acne scar treatments.
Dr. Firdous's extensive knowledge and expertise have made her one of the best skin care expert in Secunderabad Besides, she is well known for her aesthetic, natural, long-term results of various procedures, specially for acne scar treatment in Hyderabad.
Read more...
If you're looking for acne scar treatment in Hyderabad choose Dr. Firdous
Dr. Firdous treats various skin problems, especially acne, pimple, and scar issues, with great expertise.
She is adept in treating conditions like aging, pigmentation, dark skin, uneven skin, and any situation that needs cosmetic attention.
She also provides a wide range of treatments, including latest skin whitening treatment in Hyderabad which is cost effective. vampire facelifts,affordable laser hair removal in Hyderabad, wrinkle treatment, derma fillers, carbon peel and more.
Besides, she has excellent convincing skills and has dealt with many patients to seek proper treatment at the right time.
Let us know more about the causes of acne and its scar formation -
Causes Acne Scar Formation?
When the minute pores on the skin get blocked with oil, dead skin tisssues, and other present in the atmosphere, simultaneously, bacteria present in the skin can grow the acne condition leading to black and brown heads.
Not all acne turns into acne scars. Scars from acne occur due to inflammatory acne lesions like red pimples, pus pimples, and cysts. The inflammation occurs between the epidermis, and the dermis, the upper two layers of your skin. If the inflammation is severe, the acne will be very much visible.
The actual process of acne scar formation
Any damage to the dermis, the second layer of the skin, leads to a scar as the dermis contains oil glands, collagen, hair follicles, nerves, and blood vessels, which get damaged due to impurities settled on the first layer of the skin and damage the healthy dermal tissue. Also, pus-filled pimples and cysts rupture into the skin and damage the surrounding healthy tissues.
If you develop severe acne and scars, check out the effective acne scar removal treatments performed by Dr. Firdous.
Acne scar treatment in Hyderabad - performed at Aesthetic Visions
Dr. Firdous performs advanced acne and scar treatments that provide natural and long-lasting results. These treatments have several advantages like improved skin quality, texture, even skin, improves skin complexion, and more.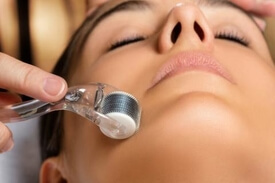 Derma Roller Treatment

Derma roller treatment is also known as skin roller, micro-needling, skin needling, and collagen induction treatment. This treatment is considered safe for people who are in overall good health.
The derma roller treatment's primary purpose is to generate new collagen and skin tissue for firmer, smoother, and brightly toned glowing skin. Trained experts from Aesthetic Cosmetology Center can perform a thorough derma roller procedure with extra care and safety. You can experience the ideal results after attending multiple sessions. Derma roller treatment is suitable on the face, scars, skin, and stretch marks.
After treating your face with a derma roller treatment, acne scars and other scars will disappear permanently. Your complexion will appear fairer than ever, the usual fine lines on your skin will fade, and stretch marks will disappear completely.
---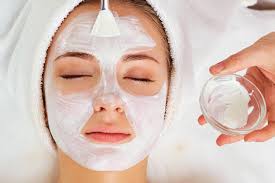 Skin Peels

Skin peeling is a procedure that involves the use of chemical agents on your skin. It causes very controlled destruction of your epidermis and dermis. It is a topical treatment that exfoliates the skin's outer layer to improve skin texture or tone or pigment. It treats skin imperfection and helps to regenerate new skin tisssues. It also allows new, healthy skin to replace the removed skin and rejuvenate the patient's look.
Patients struggling with acne can undergo skin peels treatment to remove the acne-scarred treat under supervision. They will love their improved look and feel of their facial skin.
Skin peeling is a very safe and short procedure. You can go for it during office timings for added convenience.
---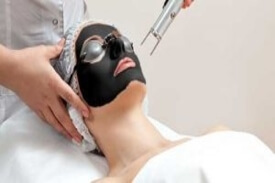 Carbon Peel

Carbon peel treatment is also known as lizard facial, or Hollywood facial. It rectifies uneven skin tone, coarse or oily skin. We prefer to do carbon facial for more long-lasting results than facial, which gives immediate results.
A carbon peel treatment involves three steps -
Application of Carbon Solution – A carbon solution is applied on the affected area. Once it dries up, the skin is massaged for the carbon to penetrate the pores.
Fixing the Skin – The carbon solution is further broken into more delicate pieces to penetrate deeply into the skin. The carbon solution will heat the skin and also regenerate the collagen tissues.
Toning - Toning is the final step, which involves blasting with a powerful nanosecond laser called a q-switched laser. This process shrinks the pores and gives a superior feel and look to the skin.
The patient will get a smooth and nearly oily free skin with reduced pores and pimples.
---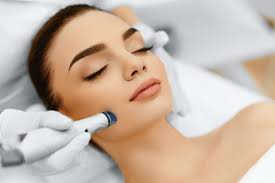 Dermabrasion Treatment

Dermabrasion is an exfoliating procedure involving a rotating instrument to remove your skin's outer layer, usually on the face. This treatment is suitable for people who wish to improve their facial skin appearance. Some of the conditions it can treat include acne scars, sun damage, fine lines, and uneven texture.
---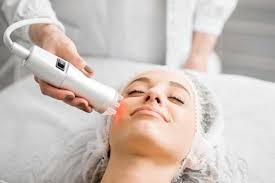 Laser Treatment

Laser treatment for acne scars aims to minimize the appearance of scars from old acne outbreaks. Many people who have acne have some residual scarring. Laser treatment for acne scars focuses light on the top layers of your skin to break up scar tissue. At the same time, the treatment encourages new, healthy skin tisssues to grow and replace the scar tissue. It can reduce the appearance of scars.
Points to Remember before you take Acne Scar treatment
Every skin is different, just like everyone is unique. One must have realistic expectations and not get carried away by ads, results in other patients, or celebs.


It is advisable to get your acne scar treatment done by a trained and expert cosmetic dermatologist with ample experience.


Remember, cosmetic procedures need special training and expertise to give you the desired results. Inaccurately done treatments may cause pigmentation, scarring, laser burns, etc.
Visit us at Aesthetic Clinic and seek proper treatment for your dermatological issues from Dr. Firdous Ibrahim and experience the rejuvenating and exfoliating change in your skin.
If you're seeking for effective acne scar treatment in Hyderabad then waste no time and book your consultation with Aesthetic Visions right now