How does Mesotherapy Work for Hair Loss?
How does Mesotherapy Work for Hair Loss?
---
Posted on January 1, 2019 at 12:00 PM
---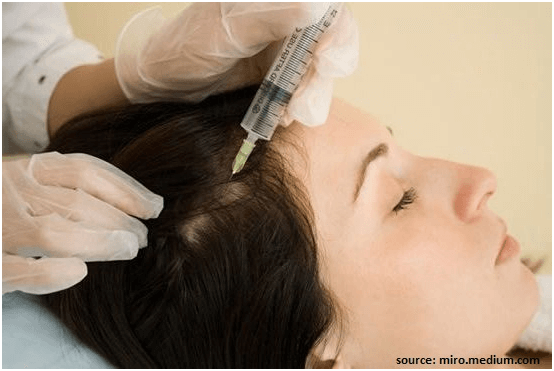 ---
Nowadays, hair loss is one of the most common problems. Losing 25 to 50 hair strands in a day is normal, but, when hair loss increases, it can be a cause for concern.
Mesotherapy can help prevent hair loss, stimulate hair growth and improve hair quality. So what exactly is mesotherapy? How can it help your hair? And why to choose mesotherapy treatment for hair loss?
What is Mesotherapy for hair?
Hair mesotherapy is also known as mesohair or mesoplasty. It involves injecting medications directly into your scalp. Mesotherapy acts on your:
Epidermis
Dermal connective tissue
Microcirculation
Immune and neurosensory systems
The treatment can also help with certain conditions like telogen effluvium, alopecia areata, androgenetic alopecia and stress alopecia.
However, there is very little scientific evidence to show that mesotherapy can eliminate hair loss.
This treatment aims to:
Increase microcirculation in the scalp
Provide nutrients
Slow down the shrinking of follicles
Stimulate hair growth
Mesotherapy uses these chemicals and ingredients to stimulate hair growth and encourage new hair production.
Biotin
Buflomedil
Dexenol
Dutasteride
Finasteride
Minoxidil
Organic silicium
Vitamins
Acetyl tetrapetide-3
Biochanin-A
PRP
Nano peptides
Cocktails
---
How does Mesotherapy work for hair loss?
Mesotherapy is a non-invasive cosmetic medicine treatment. It can return volume and lustre to your hair.
The procedure involves inserting micro-injections of pharmaceutical agents, amino acids, vitamins into the epidermal layer of the skin.
This stimulates the mesoderm layer, which leads to hair growth and new hair production.
Some of the reasons why Mesotherapy is beneficial for your hair:
Mesotherapy can treat bald patches, and activate hair follicles resulting in hair regrowth.
The complete treatment takes around 10 to 30 minutes only depending on the area of baldness or thinning hairs.
Mesotherapy is less painful and a much faster procedure.
Mesotherapy is useful for male pattern baldness, as it negates the DHT hormone, and ensure hair regrowth.
Many hair experts regard Mesotherapy treatment to bring 92% to 90% success in hair growth.
This treatment boosts blood circulation, which makes your hair follicle grow fast and survive for a long time.
Mesotherapy solution contains a mix of vitamins and other necessary nutrients. Your doctor prepares this solution according to the requirements of your hair.
Mesotherapy also helps in restoring hormone balance gradually. This, in turn, encourages the growth of healthy and new hair strands. Both men and women can benefit from mesotherapy treatment.
---
What is the Process of Mesotherapy for hair?
You may get mesotherapy treatment performed in two ways:
Chemical mesotherapy
Ingredients like minoxidil, buflomedil, finasteride, biotin and organic silicium are injected into your skin's mesoderm layer.
These ingredients work together to encourage natural hair growth by improving blood circulation, minimizing inflammation, and stimulating collagen production to reduce hair loss.


Mechanical mesotherapy
Your trichologist creates micro-perforations in your scalp area, which induces hair growth. This motion triggers collagen and elastin production helping in the formation of new tissues in your hair. During this process, there is no damage to your existing collagen.
---
How long does the Treatment last?
Duration of the treatment depends on the individual, but on average, you will need the therapy for about 4 months, once a week.
The treatment usually requires 8 sessions, 1 every week, for half an hour. You have to be patient and composed while taking this treatment. Results are only visible after the 5th session.
However, once your body starts responding to mesotherapy treatment, the duration and frequency of treatment will get reduced.
---
Who should not opt for Mesotherapy?
Do not opt for mesotherapy in any of these conditions:
Any allergies to any of the substances used in mesotherapy
Diabetes, liver, kidney and heart issues
Pregnant
Anticoagulants
An infection in the treatment required area
---
Care and Maintenance
Mesotherapy may prevent the need for hair transplant surgeries and other expensive and painful options.
However, for best and speedy results, you should maintain a healthy diet. You have to eliminate the consumption of junk food and follow a regular fitness routine.
So, consult your trichologist and find out if mesotherapy can solve your hair loss problems.
---