Best Hair Fall Treatment in Hyderabad
Best Hair Fall Treatment in Hyderabad
Hair is considered our crowning glory. And having healthy, thick, and luscious hair is everyone's dream. Unfortunately, due to several factors, we all suffer from hair loss at some point in our life. But for some people the hair loss quite severe due to which they experience excessive shedding, hair thinning, receding hairline, and baldness.
Fortunately, with professional help and the right treatment, you can overcome this issue. Dr. Firdous Ibrahim, a renowned and highly-experienced cosmetologist is an expert in hair loss treatment.
She is known to provide customized treatment after thoroughly analyzing your hair and scalp and treating the root cause of your problem.
At Aesthetic Visions, we also offer most effective hair fall treatment in Hyderabad such as PRP, mesotherapy, hair regrowth treatments, and many more. These treatments arrest hair loss and give wonderful results.
Platelet- Rich Plasma (PRP)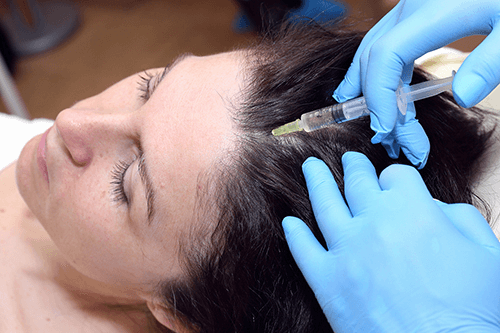 Generally, Dr. Firdous Ibrahim uses PRP to treat hair loss that is caused by androgenetic alopecia, a condition in which the hair follicles shrink. PRP injections boost hair growth by increasing the blood supply to the hair follicles and increasing the thickness of the hair shaft.
Platelets consist of many growth factors which is beneficial to the hair. Further, there is no risk of getting a communicable disease as your own blood is injected into your scalp. So if your looking for hair fall treatment in Hyderabad then PRP is the best suited non-surgical option for you.
PRP Process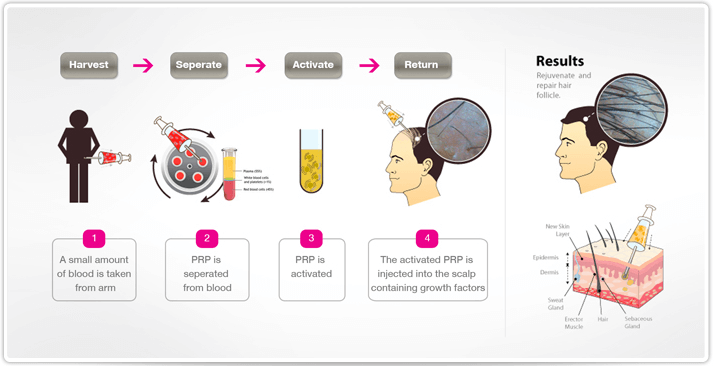 The doctor will draw blood from you and put it in the centrifuge. This is a machine that spins at great speed to separate fluids of different densities.
Your blood will separate into different layers such as red blood cells, platelet-rich plasma, and platelet-poor plasma.
Dr. Firdous Ibrahim will take the platelet-rich plasma in tiny injections and inject it into areas that are affected by hair loss.
Mostly, Dr. Firdous recommend around 3 sessions at an interval of 2 to 3 months for good results. This is the most sort after hair fall treatment in Hyderabad.
Mesotherapy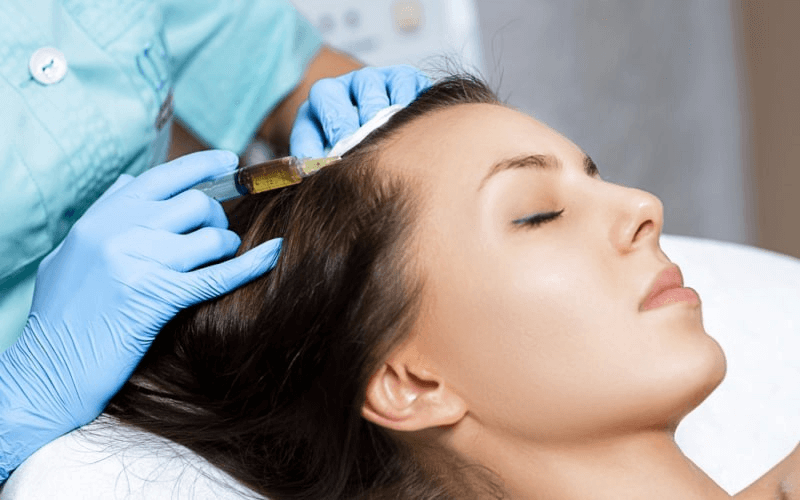 Mesotherapy is used to treat non-androgenic alopecia, hair thinning, devitalized hair, and hair loss in women. It is one of the most sought-after treatments at Aesthetic Visions. Patients looking for hair fall treatment in Hyderabad, consider mesotherapy as the most safest and suitable option providing effective results.
In this hair loss treatment, injections containing growth factors, vitamins, minerals, and proteins are injected into the scalp.
Dr. Firdous recommends this treatment to treat deficiency of protein and minerals due to which you experience hair loss. Further, this treatment has no side-effects.
Mesotherapy increases blood flow to the scalp, stimulates hair growth, regenerates hair follicles, boost hair growth, and minimizes hair loss.
This is an FDA approved treatment and you will need around 6 to 8 sittings depending on the severity of your problem.