Fight the signs of your skin aging in Secunderabad
Fight the signs of your skin aging in Secunderabad
---
Posted on January 07, 2021 at 12:00 PM
---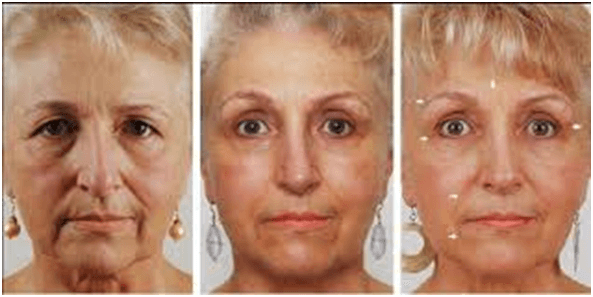 ---
Are you looking for a treatment to get rid of all fine lines and wrinkles on your face?
Are double chin and sagging skin making you feel unhappy?
Do you want to look more youthful and fresher?
Well, wrinkles and fine lines are the symbols of your skin aging. It is a natural process that your skin loses elasticity as you grow old. You may start facing all the skin related issues during your forties and later. But there are few exceptional cases where the signs of skin aging develop in the thirties as well.
The development of these skin aging symbols starts very slowly in the beginning. Gradually they become so severe that without proper care, it is impossible to control.
Many options are available in today's world that claims to be effective in treating fine lines and wrinkles. It includes over the counter cosmetic products, different parlor treatments, easy to access home remedies, and many more.
However, nothing can provide you the long-lasting and most effective result. After a specific time, you will become tired due to all these regular hassles.
People in Secunderabad are also facing this problem. Hence, they are looking for a long-lasting, effective solution to regain the youthful look. Here comes the main trouble, choosing the best cosmetologist for your treatment.
Today you can regain your youthful appearance with the help of modern aesthetic treatments. Due to the blessings of progression in modern medical science, the treatments are highly successful and safe.
We at Aesthetic Visions clinic provide you one of the most reliable anti-aging treatment in Hyderabad.
Now, let us discuss the different treatments available for your skin anti-aging.
Our personalized treatment procedure includes the following treatments to treat the signs of aging.
Types of Acne Scars
Fillers:
Fillers are the medicines that can benefit from treating the signs of your skin aging like wrinkles, fine lines, and sagging skin. We inject this effective medicine into your skin by injections. It helps you to tighten your skin and to regain a youthful look. It improves your skin by reducing dryness as well.


Botox:
Botox has a high potential to eliminate the fine lines and wrinkles on your skin. It is a medicine that we get from microorganisms. We inject this medicine in your problem parts of the skin to paralyze the muscle temporarily. This way, it fixes your skin wrinkles very effectively.


Laser:
Laser beams are highly efficient in treating your aging signs of skin. It stimulates your skin cells to gain elasticity. You will lower the number of facial wrinkles and skin irregularities like blemishes or acne scars. The ablative laser works by removing the top layer of your skin. The heat of the laser beam promotes collagen production and heals the area.


Micro-needling:
By the application of skin micro-needling, you can remodel and tighten your skin. It requires three to four sessions to see the best results. The treatment repairs your cell damage stimulates growth. Generally, we use microneedles or derma rollers to do the repeated puncturing on your skin in this procedure. It triggers the production of collagen, which, in return, helps improve your skin.


Thermage and ulthera:
It is a non-surgical facelift treatment where we use radio frequency to provide you a smooth, tighten and contour your skin for a youthful appearance. It stimulates your sagging skin and produces new healthy skin cells.


Facelift:
It is the most effective treatment for your damaged and sagging skin. We perform this procedure to lift and tighten your facial tissues. We remove the excess skin of your face surgically. It will provide you the smoothing out folds or wrinkles and tightens your facial tissue.


It is not that you will need all these treatments at the same time. Our skin specialist will diagnose your skin and then, upon understanding the requirement, will advise you on the most suitable treatment.
---